Dubai desert safari has become really very popular among the tourist who visit Dubai. Especially after visiting Dubai once everybody wants to visit Dubai again as soon as possible. With experience they start to book before-hand some people book and see best Desert Safari prices / deals even before landing in Dubai. We offer affordable desert safari deals price for you to enjoy desert safari Dubai tours. Here is an advice for new tourists who travel to Dubai for their excursion, to check the desert safari reviews before booking any desert safari deals in Dubai. It will give you a better knowledge about the services of the company. Below is a quick glimpse of what you will get in our Dubai desert safari fun tours.
Regional  best deals for in Desert Safari  Tours.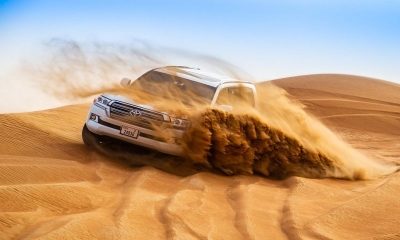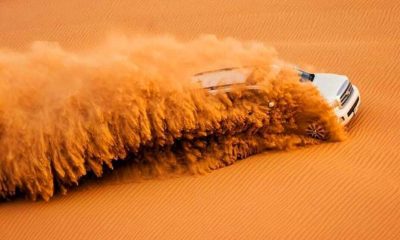 Thrilling Adventure high dunes red sand lahbab area dune bashing with Belly Dance + more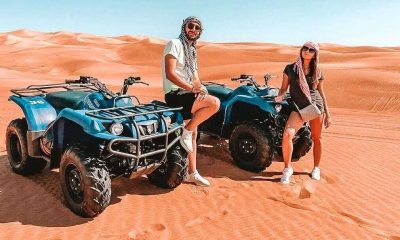 ATV quad biking in high red dunes big desert of dubai with/without pickup from home.
Dune Buggy Self Drive Packages
Prices vary for the time you ride the dune buggy. You'll be allowed to ride Dune Buggy on self drive in open desert with no boundaries with high dunes. You can drive Dune Buggy for 30 minutes, 1 hours, 2 hours. Prices are not listed in the site but feel free to contact us at WhatsApp no.+971 52 966 4994.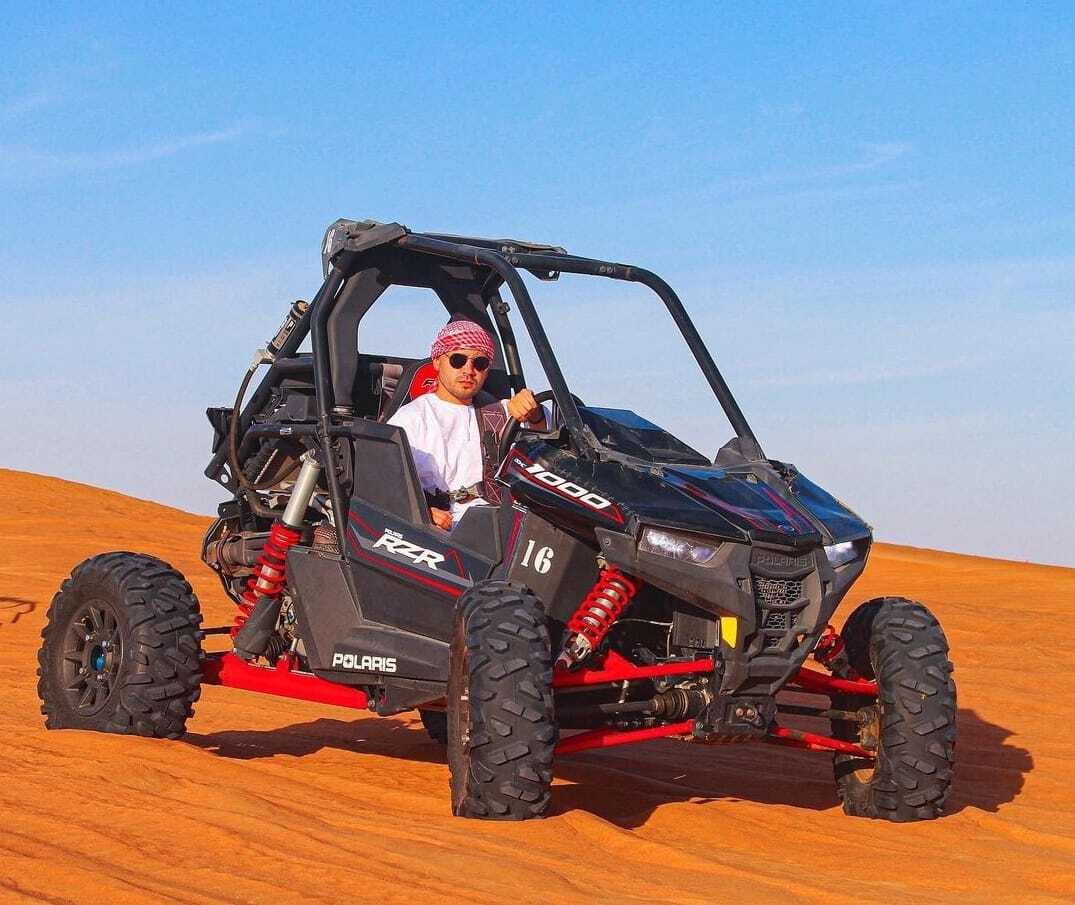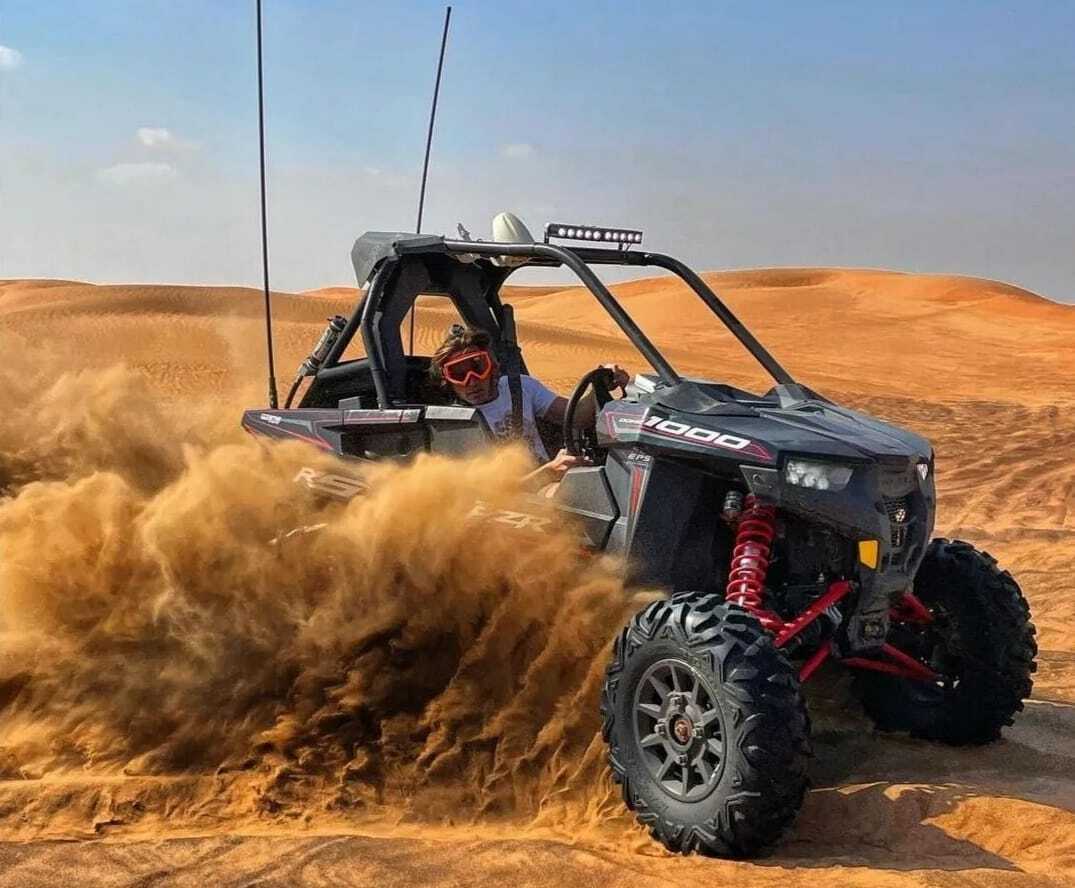 In open desert
with no boundaries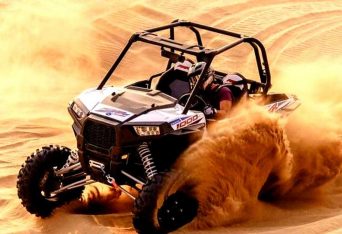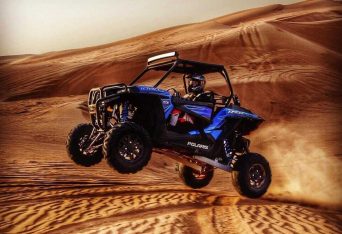 In open desert
with no boundaries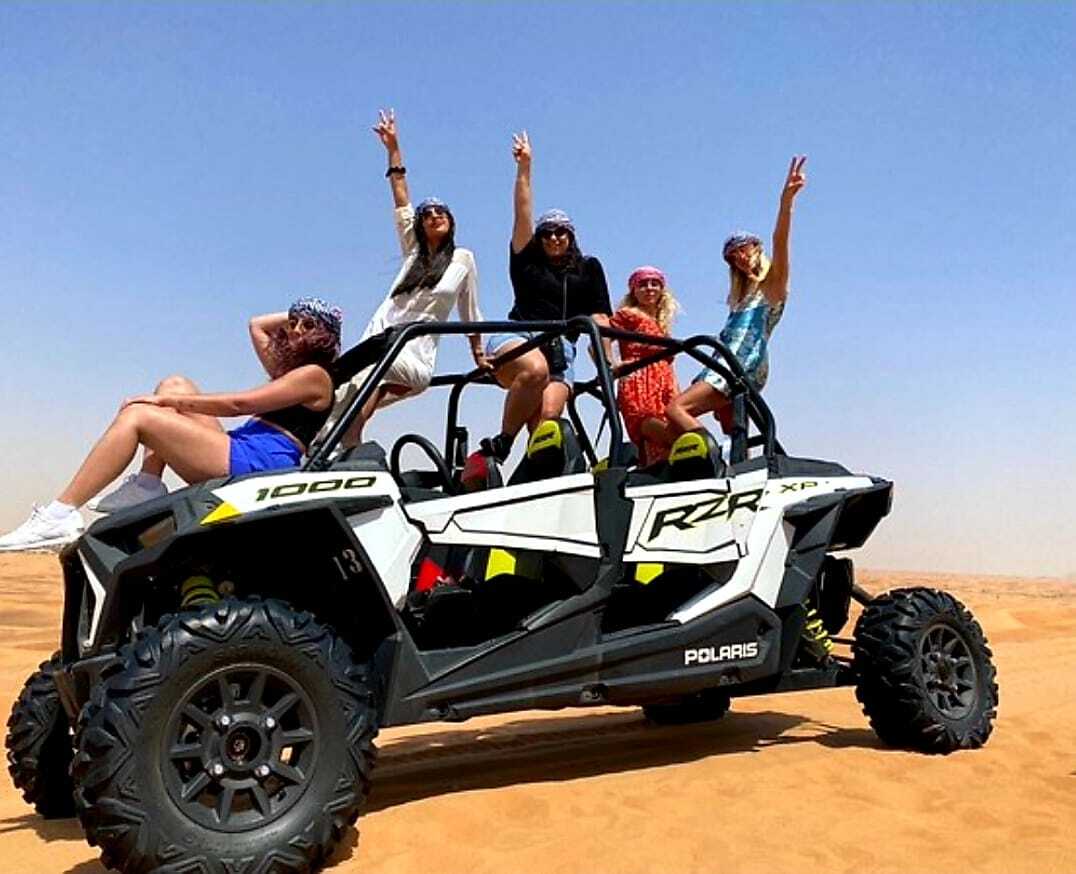 In open desert
with no boundaries
Exclusive Can-am x3 Dune Buggy
This tour ups the ante and gives you chance to try out the high-speed high-powered Maverick X3 X rs Turbo RR. Take the wheel and fly through the Dubai desert, put the 195 hp engine to the test as you climb up the dunes, and enjoy spectacular views over the desert.
Exclusive Can-am x3 Dune Buggy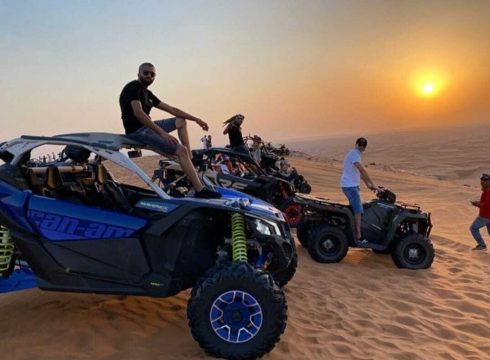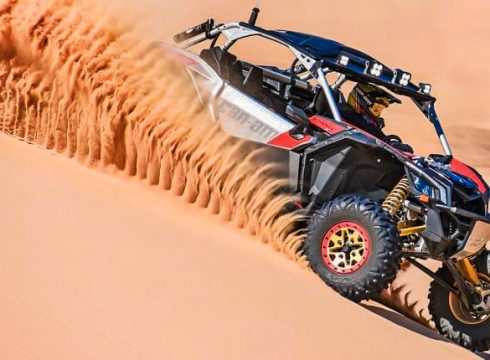 Whether it is your first time in Dubai or the second time it is always amazing to Start your morning with unique desert safari Dubai. The desert safari rates for morning desert safari is very affordable for almost all the tourists. Kick off the day with the soothing yet thrilling morning desert safari in a 4x4 SUV desert safari Dubai. We provide this free pick and drop service to our guests so they don't have to worry about reaching their destination in order to enjoy desert safari. Reaching the red sand desert in time for the beginning of the breath-taking morning desert safari is your goal for the day.
Desert Safari Book Tours in Dubai
After reaching the world-famous red sand desert the desert safari dune bashing Dubai begins on the curved paths. Its very important that the driver is fully skilled to manage the car while bashing through those dazzling dunes. In the end of dune bashing Dubai, you will get a chance to enjoy sand boarding or camel riding or quad biking Dubai. Keeping our guests hydrated is our first priority. And we fulfill the demand of our guests by providing free drinks, cold drinks and water. You can also take pictures to keep them in your memory book.
People end up getting an evening desert safari deal because of all the amazing entertainment they will get to enjoy in the evening which they can not relish in the morning desert safari. They check Dubai desert safari costs on internet to find which is the best desert safari deals which is suitable for them to take. In Arabian desert safari Dubai offer you can enjoy almost everything under one roof. A usual free pick and drop service to take you to the Lahbab desert in time. In the evening desert safari offer besides the thrilling dune bashing you can also enjoy the calming view of the setting sun from the middle of the desert which makes it enchanting.
As soon as the dune bashing ends there are a lot of amusements that await you. You can relish camel riding if you have never enjoyed it before it then it will be a new experience for you. You can also enjoy sand boarding and quad biking Dubai just like morning desert safari. These things include extra charges, it is not included in the deals so you don't have to pay for thing you don't want to try in the deals.
After enjoying the amusements as much as you want you can enjoy the mesmerizing night shows. The belly dance in Dubai desert safari, Tanura show at Dubai desert safari and the fierce fire show to make your evening desert safari trip amazing. You can also try out shisha smoking at the restricted areas and also relish henna tattooing at the camp site.
Plus, by paying extra charges you can also relish the amazing VIP services to make you feel good. In VIP services of desert safari Dubai, you will have a specific and comfortable sitting area to enjoy the Arabian night shows during desert safari Dubai. In addition to the sitting area all you have to do is to dine peacefully at the table and your waiter will provide you everything you need.
Since camel ride dubai is very common in UAE, special camel riding deals for camel riding lovers are offered by our company. Rather than enjoying just a few minutes camel riding during your evening desert safari or morning desert safari you can enjoy a whole camel riding offer in Dubai desert safari. You can relish camel riding in this deal for like more than 45 minutes. The camel owner will absolutely be there for any kind of mishap, like if the camel gets out of control or if you lose your track, to help you out of that problem. Frizzy drinks and cold water we available for you any time you need water it will be given to you right away. In addition to camel riding you can always pay extra charges to try out quad biking Dubai or sand boarding. Remember this deal is specifically for camel riding it does not include dinner at the camp site.
Unique QUAD BIKING adventure in Desert
best thrilling activity in desert safari Dubai is quad biking Dubai. Here we have best desert safari rates for quad biking Dubai. It is a special deal for people to enjoy quad biking Dubai for more time then usual time which you get during any of those morning or evening desert safari offers. A guide will explain to you all the important stuff about the quad biking Dubai so you don't lose the tract. You can enjoy quad biking Dubai totally on you own or if you are not familiar with the tracks you can take the guide along with you.
Like all other cheap desert safari deals and offers you will have a free pick and drop from your residence to the desert and then back to your residence. Most importantly we take good care of our customers by keeping them hydrated we give them free water and energy drinks so they can enjoy all the quad biking Dubai experience.
DUNE BUGGY - best desert safari tour company in dubai
Dune buggy Dubai is also very famous among the tourists. We have this astounding deal for the Dune buggy Dubai lovers. People who want to be amused by Dune buggy Dubai can opt for this exclusive deal. You can check for the desert safari reviews of our website to see how well we treat our customers. You will enjoy Dune buggy Dubai with best Dubai desert safari rates which is really very affordable.
Additionally, you can also enjoy it along with your family or friends. Because 4 people can sit in the dune buggy so don't hesitate to try the Dune buggy Dubai.
Overnight desert safari continues along with the evening desert safari after watching the night shows. Like other desert safari offers a free pick and drop is available for the guests. This specific deal is the only one which does not end at night but in the morning after the sun rise. So, you will get the chance to capture the rising sun in your memories forever till you drive back to your destination (residence).
Let's Begin Desert Safari UAE
Desert Safari in Dubai is the leading tour in UAE. Dubai Desert Safari tour offers a lot of fun and entertaining activities. Desert Safari has captured the heart of millions of tourist who visits Dubai. The huge number of tourists came across from the world to enjoy the Arabian Desert Safari Tour.
Dubai Desert Safari tour starts with the pickup from your home, hotel or centralized location. You will be pick up in luxury 4×4 Land Cruiser or any other vehicle depend upon your desert safari package. You will be taken to Lehbab Desert where you will enjoy fun and thrilling activities. Desert Safari Dubai includes Dune Bashing, Camel Ride, Sand Surfing, ATV Quad Biking Dubai, Dune Buggy Dubai, Belly Dance, Tanoura Shows, Live BBQ, Vegetarian and Non-Vegetarian Buffet and a lot more. You can enjoy dinner on the Evening and Overnight package only.
Dubai Desert Safari offers the most competitive Arabian Adventures tours in UAE. We are the most trusted and Best Desert Safari Dubai tour providers.
DESERT SAFARI DUBAI #1 ADVENTURE
Desert Safari Dubai has multiple timely manners tours. From early morning to evening and overnight safari tours. We provide from small to a maximum number of customized group Desert Safari to companies. Our company offers the best desert safari deals and packages over the years. Book and enjoy the best desert safari Dubai. We are the part of biggest Arabian Tourism.
Grab the exclusive Dubai Desert Safari package & enjoy the Arabian Adventures with us. Desert Safari UAE is the leading tour activity in Dubai. Let's go for Desert Safari, the only ultimate entertaining and adventure tour in the United Arab Emirates.
We Dubai Desert Safarii offers the best Desert safari deals. Check the recent best Desert Safari Offers 2020. Enjoy the best Desert Safari Adventures tours. Fresh Desert Safari Prices.
Desert Safari Tour Package Includes
Pick Up & Drop Off:
Pick & drop from your residence, hotel, centralized meeting points. Depends upon package type.
4×4 Dune Bashing:
Dune drive in 4×4 Toyota Land Cruiser, Thrilling Dune Bashing on Lahbab Desert.
Camel Ride:
Experience Camel Trekking over the Arabian desert. Step back to the ancient Time.
Sand Board:
SandBoarding is the board sport in Dubai Desert. Sand boarding is the ride over the sand dune in the deserts.
Desert Safari Heritage Camp:
Bedouin Style Arabian Camp on The Desert of Dubai. Once you are done with outside activities it's time for the Arabian Camp.
Free Refreshments:
Have a warm welcome drinks like special Arabic qahwa, Arabic tea, coffee & unlimited water packs or soft drinks at Safari Camp.
Traditional Arabic Costumes:
Feel like classical Arab, Experience the Thawb by wearing it. Take pictures to surprise your circle.
Henna Tattoo:
Get the Henna gorgeous, versatile designs Tattoo on your hands in the Arabian Desert Camp.
Live Entertainment Show:
In the Charm of Belly Dances, Halal Dance, Fire Shows, Tanoura Dance make your evening exclusive.
International Buffet – BBQ:
Feed Your hungry belly with Veg and Non Veg Food. For the first time experience Live BBQ in The Desert Camp.
Entrée Course: Samosa – Pasta
Main Course: Biryani Rice – Jeera Rice – Noodles – Dal – Vegetables Curry – Chana Masala – Arabic Khubz – Sauteed Veggies
Grills: Chicken – Shish Taouk – Lamb KebabCold Appetizers: Tabbouleh – Garlic Sauce – Fattoush Salad – Hummus & Macaroni Salad
Dessert: Mix Fresh Fruit Salad
Dubai Desert Safarii founded in 2017. The Only UAE based best safari, tourism provider. We are aiming to provide the best package and price to meet your expectations.