Best Desert Safari Dubai Offers & Deals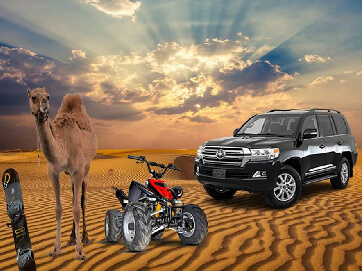 Morning Desert Safari Includes 35 Minutes Dune Bashing, Camel Ride, Sandboard, 4×4 Quad Bike, Horse Ride & Much More.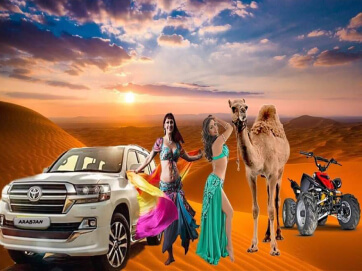 Evening Desert Safari includes Dune Bashing, Camel Ride, Sand surf, 5 Live Shows, BBQ Buffet & Much More.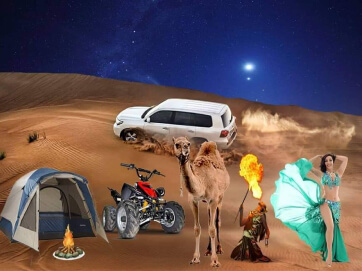 Overnight Desert Safari
Overnight Desert Safari Includes all evening Desert Safari Activities and night stay at Arabian Bedouin Camps.
Dubai Desert Safari #1 Adventure
Desert Safari in Dubai is the leading tour UAE. Dubai Desert Safari tour offers a lot of fun and entertaining activities. Desert Safari has captured the heart of millions of tourist who visits Dubai. The huge number of tourists came across from the world to enjoy Arabian Desert Safari Tour.
Desert Safari Dubai – Let's Begin
Desert Safari tour starts with the pickup from your home, hotel or centralized location. You will be pick up in luxury 4×4 Land Cruiser or any other vehicle depend upon your desert safari package. You will be taken to Lehbab Desert where you will enjoy fun and thrilling activities. Desert Safari Dubai includes Dune Bashing, Camel Ride, Sand Surfing, ATV Quad Bike, Dune Buggy, Belly Dance, Tanoura Shows, Live BBQ, Vegetarian and Non-Vegetarian Buffet and a lot more. You can enjoy dinner on the Evening and Overnight package only.
Dubai Dessert Safari offers the most competitive Arabian Adventures tours in UAE. We are the most trusted and Best Desert Safari Dubai tour providers.
Desert Safari Dubai has multiple timely manners tours. From early morning to evening and overnight safari tours. We provide from small to a maximum number of customized group Desert Safari to companies. Our company offers the best desert safari deals and packages over the years. Book and enjoy the best desert safari in Dubai.
Desert Safari Packages Include
Pick & Drop From Hotel/Home/Meeting Points Upon Package Type
Thrilling Dune Bashing on high Arabian Sand Dunes in the desert on 4×4 Land Cruiser.
Experience camel trekking over the desert step back to ancient traditional time.
After the Dune bashing, Camel and ATV quad bike, you will to Arabian Bedouin Camp. Where you can enjoy a lot of fun activities.
Upon arrival at the Bedouin camp, you will be welcome with Qehwa, Drinks, Coffee tea and snacks.
Stunning Buffet  with 15 Dishes, with Veg and non-Veg Options, with the bit of Flame Grill live (BBQ), multiple Salads, and Arabic Dishes.
Our Live Shows Include 2  Belly Dance Shows, Tanura Dance, & Fire Show.
Conventional Arabic Costumes
Wear the tradition Arabic Costume and tale your Instagrams profile picture.
Standard Desert Safari PickUp Points
Sharjah Bus Pickup Points
Book Dubai Dessert Safari
Book Arabian Adventure Dubai Desert Safari tour with Dune Bashing, Quad Bike, Camel Ride, Live Shows, Belly Dance's, Tanoura Show, Fire Show and Live BBQ Dinner. Grab the best desert Safari deals in Dubai. Book your desert safari Dubai tour with a single click through WhatsApp.