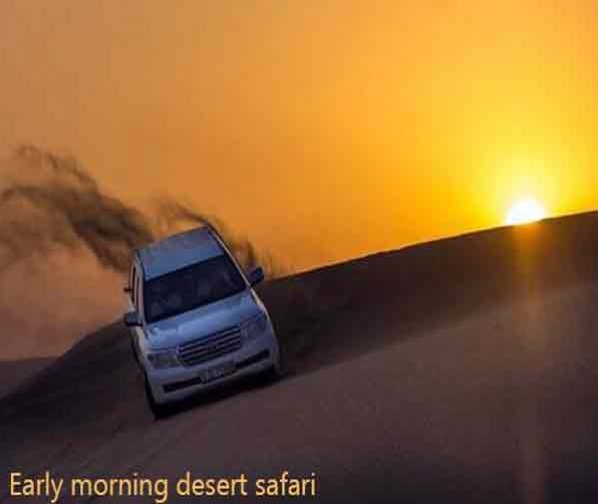 350 AED | $ 95
Early Morning Safari Trip Includes Early Morning Dune Bashing, Camel riding, Henna painting, live entertainment shows.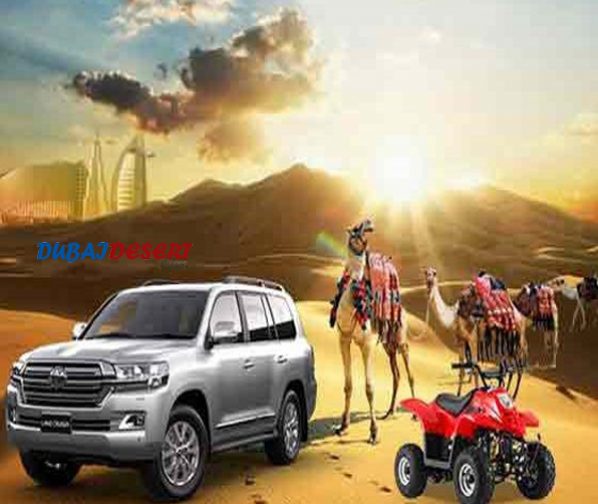 140 AED | $ 38
Morning Desert trips Includes Camel Riding, Dune Bashing, Sandboarding, Quad Bike Riding (extra charges) & much more fun.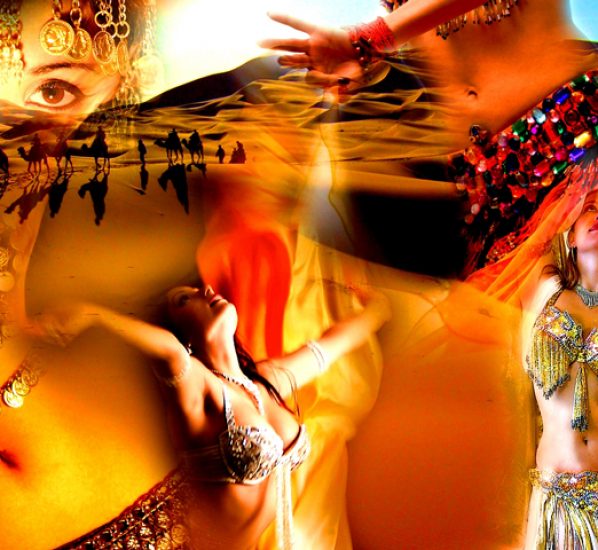 90 AED | $ 23
Evening Safari Includes Dune Bashing, Camel riding, Henna painting, live entertainment shows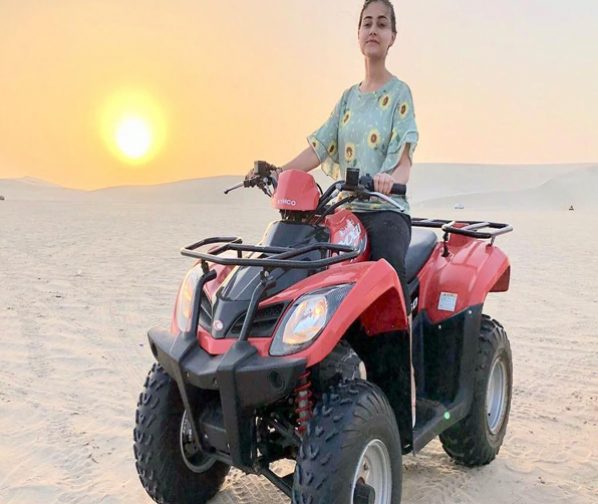 450 AED | $ 122
Get Special discounts on Dune Buggy 3-4 hours Trip Including Dune Bashing, Camel riding, Welcome party and Photo shooting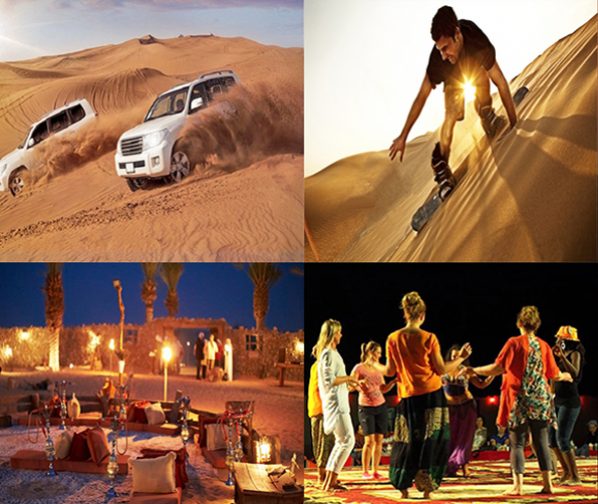 160 AED | $ 54
VIP Evening Desert tour Includes with BBQ Dinner, Dune Bashing Camel Riding & much More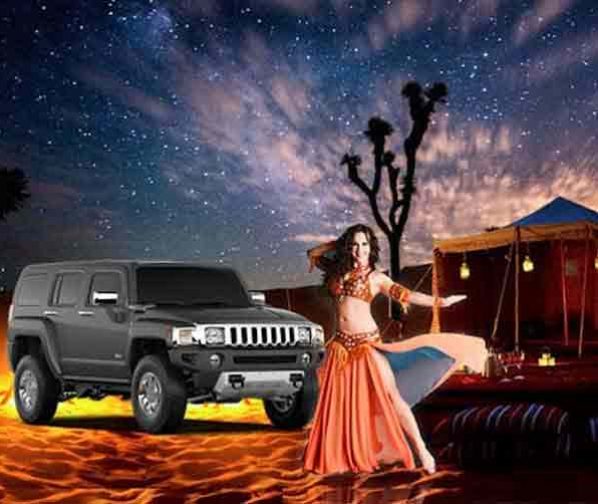 250 AED | $ 68
Full Night Desert Safari Trip Includes Dune Bashing, BBQ dinner, Belly Dance, Fire Show, Tanura Show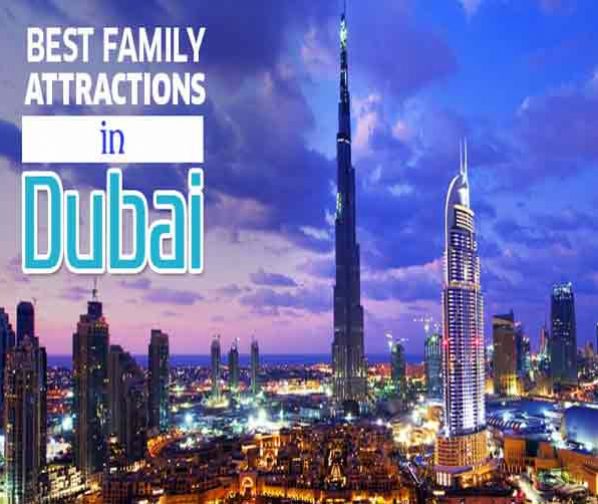 130 AED | $ 35
Dubai City Tours Includes Dubai Mall, Jumeirah Beach, & All Popular Sightseeing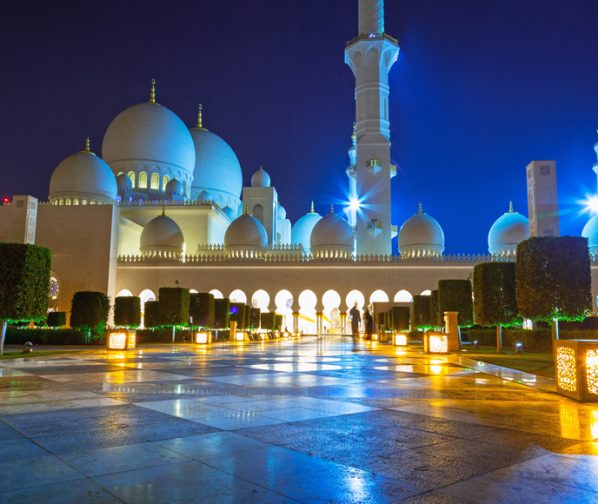 150 AED | $ 41
Abu Dhabi City tours Includes Grand Shaikh Zayed Mosque, Open Beach, Ferrari World Park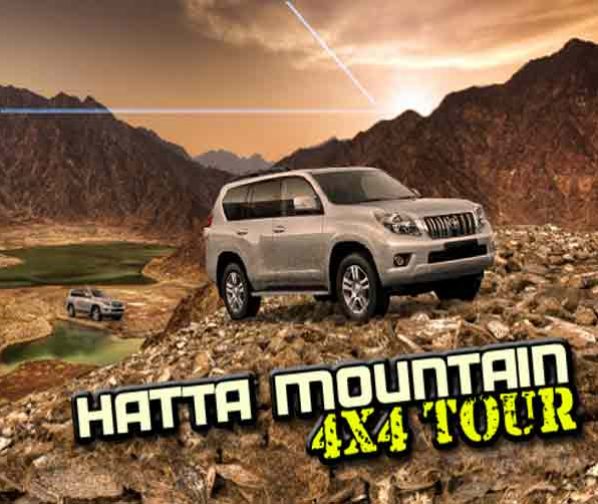 99 AED | $ 27
Hatta Moutain Tour Includes Sightseeing, heritage village, mountains trip and much more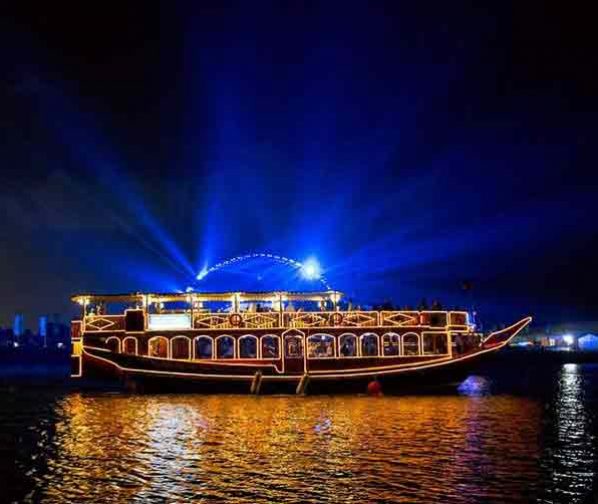 65 AED | $ 18
Dhow Cruise Dinner Dubai Creek Includes Dhow Cruise Dubai Creek with Dinner & Sightseeing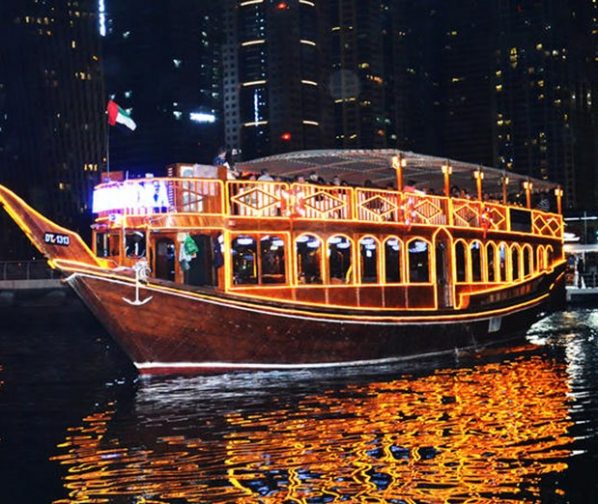 150 AED | $ 41
Dhow Cruise Dinner Dubai Marina Includes Dhow Cruise Dubai Marina with Dinner & Sightseeing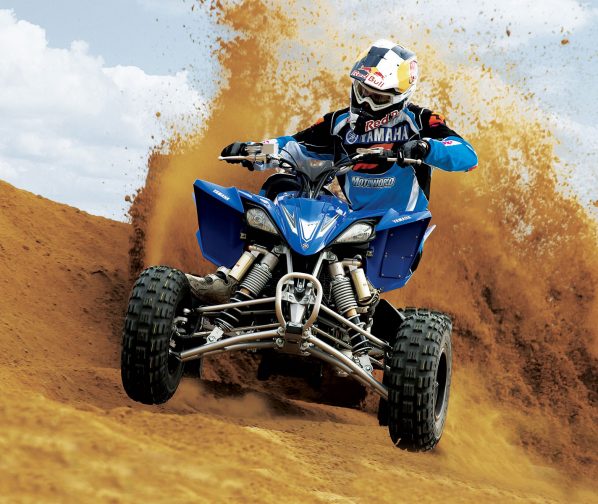 150 AED | $ 41
Enjoy Best Quad Bike adventure with our Affordable package for more than 25 minutes with desert safari trips.
Best desert safari deals in Abu Dhabi
:
Find a Great Compnay in Abu Dhabi For Desert safari adventure is something that'll become an easy Task. If you're planning a trip for Best desert safari deals in Abu Dhabi at Cheap rates you must consider our services. Our Drivers and Guides are always ready to tak you from Home and Let you enjoy the best desert safari. At Dubai Adventure Safari We Offer in What we are best and We guarantee you for the unbelievable trip that you have never gone for. We have more than 10000 active tourists every month from UAE, USA, UK & France. You will love to talk with us because we have low prices and Quality Services with pickup & drop-off.
Dubai desert safari Price Per Person
AED 65 per person (Pick n Drop from Standard Locations in Dubai & Sharjah) AED 60 per person for a group of 30 or more people or
We offers
desert safari deals
dubai 2019
Dune Bashing & desert safari rides 15 to 20 minutes in the desert

Enjoy sand boarding

Get Quad bike or buggy ride or camel riding for a little extra cost

Capture the might of sand dunes within the eyes of your camera

Pick up and drop off to your residence or hotel, located anywhere in Sharjah or Dubai.
24 x 7 Support Team
Call Now: +971 567116656 WhatsApp: +971 529664994
Desert Safari Sharjah Tours , Prices, Discounts
We also offer Desert Safari sharjah deals and Tours from Sharjah and Abu Dhabi to Dubai at reasonable prices. Our prices from Sharjah varies with Groups and Individuals. If you are a group of Individuals then We may charge 99AED per person for Full trip and but if you are group of 12 people we charge only 65 AED per person. Our Safari Tour includes Pickup and Drop off service also. check out the activities include in this trip. We offer Pickup, drop services,
Short term Camel Safari Riding,
Quad Bike Tours (extra Charges)
Dune bashing with fun and professional Drivers
Our New Desert Safari Offers
Explore More About Dubai Adventures
Quad Bike and Dune Buggy Tours at Low Cost
Quad Bike Dubai and a lot more to enjoy with your friends and family With Dubai Desert Dune Bashing with Dune buggy Tours.
Desert Safari Deals from Sharjah
Do you Want to know What Desert Safari Offers are in Our Bucket?
Dubai desert safari is one of the most popular trips in last few years in UAE after Burj Khalifa World's Tallest Building and Burj Al Arab the only 7-star hotel in the world. We have the best Record for Morning Desert Safari deals, Evening desert trips, Overnight desert tour offers in Racing and Adventure for most Luxurious Vehicles like Land Cruisers with a lot more activities like Dune Bashing with Background Arabic Traditional Music, Quad bike Riding, Camel riding and in Bedouin Camp Live Entertainments shows From Best artist came from all over the world like Belly Dance, Tanura Show and Fire show. If you are planning to Visit UAE, make a plan to visit Dubai for best adventure in Desert adventure and Dubai City tours, beaches, Marina Dubai, city Tours and Adventure for next time.
Desert Safari Deals with quad biking
Morning & Evening Desert Safari Deals/Offers Dubai
We offer different options for pickup from your hotel/Residence with 4×4 Land Cruiser/By Exclusive Car/ by Bus depends on your packages and bring to the Selected Destination & provide professional Driver and local guide. If you think that you have good driving skills then you can test it in Middle of Golden desert to drive a Luxurious Quad Bike. We have a lot of Combo and single tour deals with very reasonable prices for each trip with a professional team working in Dubai since last 5 years. We Believe in Quality services and customer satisfaction and Build the strong relationship for next visit.
Desert Safari Dubai deals
We have a strong profile on TripAdvisor and our clients gave us feedback to help us grow fast and improve quality of services that we provide with passion. Our Most Popular Trips like VIP evening Desert Adventure, Overnight desert trips Dubai and Dubai Safari company are all time green because we are best in this industry more than 1 million satisfied customers.
Cheapest Dubai Desert Safari offer in Abu Dhabi, Dubai and Sharjah
Dubai desert safari offers at cheap rates from 65 AED. We offer pickup and drop-off services from Dubai and Sharjah to Dubai Desert. There are a lot of options included in the Dubai desert safari Trip.
Pickup and drop-off by bus, Land Cruiser exclusive car

Welcome party

Camel Riding

Quad Bike riding (40 AED extra)

Sand Boarding

Henna Painting

Lunch or Dinner

Sand Skiing

Live Entertainments shows.
We wish you happy Dubai Desert Safari Adventure
Evening and Morning Desert Safari Deals
Dubai Evening Desert Adventure VIP Tours (Exclusive 4×4 Land-cruiser Pickup & drop-off) Special Evening Desert deal trip (exclusive car Pickup & drop-off) Early Morning Desert Safari Trip 4+ hours trip (4×4 Land-cruiser ) VIP morning Desert Safari Dubai (Exclusive Car/Bus Pickup & drop-off) Overnight Desert Safari Full Night Tour with Comfortable Tent Stay in Desert (exclusive Pickup & Drop-off) Dinner & breakfast + live entertainment shows.Dune Bashing & Quad Bike Riding Exclusive Tours with the Best adventure Sand Boarding, Sand skiing, Henna painting Special Camel Riding with Photo-shooting opportunity in Arabic Traditional Dresses Welcome Party with Unlimited cold drinks & Arabic Dates and Special Tea
Book Dubai Safari Tours
Best Desert Safari Packages Contact us to get more new deals: Get the Deals of the Day Telephone us at 00971-52 9664994 Holiday desert safari deals and New year 2018 deals, don't be late get your bargain today call for details and booking at 00971-52 9664994
Desert Safari Deals
Call us for Best Desert safari Dubai deals & offers 00971-52 9664994
Our new deals and packages will be starting soon…
Desert Safari Offers by 4 x 4 Cruiser
Following are our rebated prices that can allow you
Desert Safari Deals Abu Dhabi to have this unforgettable experience for something that is as minimal as AED 100 per individual.
]
Desert safari deals Abu dhabi
Our Packages depends on the trips you selected and Quantity of person. If you're looking to receive Bonus facilities such as, pick and drop at your preferred location and a refreshment.
Pickup and drop off to our standard places in Dubai

Pickup and drop off to our standard locations in Sharjah (Sharjah City Center, Mega Mall, Al Mulla) and in Dubai (Dragon Mart, MOE, Diera City Center, Al Mullah Plaza) – Only applicable for regular package.
Desert Safari Offers Starts @ AED 60 per person
TANURA SHOW / FIRE SHOW / BELLY SHOW
[toggles title="Frequently Asked Questions" type="accordion" style="style2″ ][toggle title="What is total Price of Morning Desert Safari Dubai?" collapsed="true" ]A complete Desert Safari adventure Costs only 250 AED per person but for Abu Dhabi customers who have or different package, you can call us on our booking number.[/toggle][toggle title="What Vehicle You used for Pickup in Morning Desert Safari Adventure? " collapsed="true" ]In Standard packages, We use car/Bus Pickup from Standard Locations but in Exclusive or VIP Packages We Offer Land Cruiser Pickup from hotel or Residence and drop-off.[/toggle][toggle title="Do you offer pickup and drop off service from Sharjah and Dubai?" collapsed="true" ]We have some standard locations in Dubai for pickup and drop off but there is an option of Residence or Hotel pickup that depends on your deals/Packages.[/toggle]
[toggle title="How do I make a reservation for early morning desert safari/Sunset Desert safari?" collapsed="true" ]You can Bestdubaidesertsafarii@gmail.com or even place a call on, +971 529664994 [/toggle]
[toggle title="Can I pay for early morning Desert Safari?" collapsed="true" ]You can We collect payments online and via Bank transfers but an option of payment on arrival is also available[/toggle][/toggles]
[/block][/container]